Welcome!
THE Dream Machine Innov-is XV8500D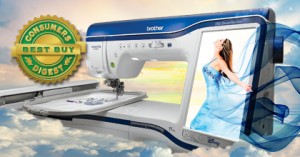 The long awaited Dream Machine is finally here!  As an authorized Brother dealer, Sew Much Fun will have one of the first orders delivered by the end of September.  Last week at the Brother Convention I had the opportunity to play with it many times and boy is it a DREAM!  With over 100 new and improved features Brother has hit the jackpot. Click the link below to Brothers Dream Machine home page for more information and a video.
http://www.brother-usa.com/homesewing/thedreammachine/default.aspx#.U-ufdIBdV8M
To call us about more information about the machine call us at 561-999-9992.
—————————————————————— 
-We are now creating a new YouTube page to help with some sewing tutorials and  if you are confused or just need a refresher this is perfect for you!
https://www.youtube.com/user/SewMuchFunTutorials
——————————————————————
COME SEE OUR BLOG FOR ALL THE LATEST UPDATES!!
"Sew Much Fun, where South Florida Customers are Number One!" can make your dreams come true! We have something for everybody:
♥homemakers
♥business innovators
♥children/tweens/teens
♥first-timers
♥design students
♥designers
♥anyone wanting to alter or customize garments, accessories, or household items, etc.
We teach, we mentor, we walk you through instructions, we help you no matter where you are in the process.
Read success stories and get information on upcoming workshops and classes. Visit our NEWS for the latest in newspaper and magazine articles, and individual testimonials. Stop by during our store hours.
Be sure to sign up for our newsletter (on your left) so that you won't miss out on all the upcoming fun and instructional events.
See you soon! Please call us at (561) 999-9992. We're here all day, sewing, creating and having fun.
Serving Palm Beach County and South Florida